Central Banks – SNB and BOE
Today the Swiss National Bank (SNB) announced that they would be keeping its expansive monetary policy unchanged. The Bank of England (BOE) also decided to leave rate changes on hold although they are intimating the possibility for November. This decision is no surprise in the wake of recent strong data out of England, which has shown the British economy stronger than expected since the Brexit decision. Most economists are starting to feel much less pessimistic about Brexit as the British economy has shown such resilience, and while the sterling is no where near pre-Brexit levels, it is definitely putting up a fight and has maintained some upward momentum on the GBPUSD daily chart since August 1st.
GBP – Technical Analysis
Upward BUYING momentum: Shown when the green MA line (fast moving MA) rises toward, crosses over, and maintains a level above the yellow MA line (the slower moving MA). Since August 15th, the green MA lines have been strengthening and finally crossed over on August 24th. The green MA lines has been fighting to stay above the yellow MA line ever since.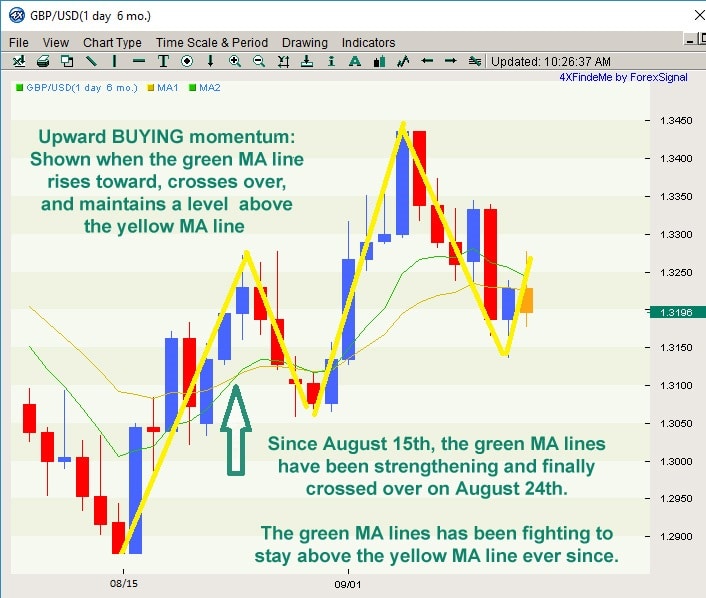 Next Week Central Bank Headliner – BOJ
There is no overall agreement among economists as to whether the BOJ will decide to continue with their current policy and if we will see further deepening of negative rates. The September 20-21st meeting and resulting BOJ Monetary Policy Statement and Decision on September 21st is likely to make waves among the Yen pairs.
Yen Strengthens, But Barely
The safe haven yen looked a little bit more attractive overnight and into Thursday in the wake of stock market uncertainty, although other major and commodity pairs were little changed ahead of next week's central bank meetings.
Analysts expected the Yen to have moved even stronger, but still recent crawling gains in the Yen reveals a lack of confidence in the Bank of Japans aptitude to weaken the currency, but for now it seems the market is holding back from major Yen movement until after next week's BOJ meeting.
FOMC Next Week – Rate Hike Expectations Remain Low
The Fed also meets on September 20-21st and conflicting comments from US policymakers have led to an ambiguous view of the monetary outlook. Overall, the expectations for an actual rate increase next week remain very low, but the dovish or hawkish comments by the Fed could strengthen or weaken the US Dollar, particularly while Ms. Yellen speaks and may reveal possibilities of rate hikes later in the year, which is still a possibility in the big picture.
Forex Signals – Trading Opportunities
We are monitoring the Forex market closely and when our criteria is reached, we will be sending Forex signals to our clients all over the world. And if you don't have time to trade, we can send our signals directly to your trading account with our MT4 trade copier.