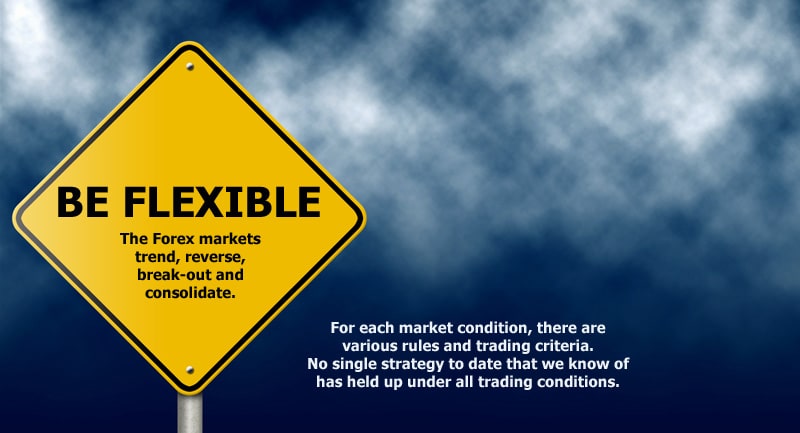 A week ago, the dollar fell against the Euro; today the Euro erased almost all of the Greenback's previous gains as the US Dollar also slid against the commodity pairs
Despite the Doha talks failure which resulted in almost 7 percent losses in crude oil prices on Monday, today Bloomberg reports that "oil has pushed about $40 as a strike in Kuwait curbs global production by as many as 1.7 million barrels" and in its wake we see a fresh rally in other commodities such as silver and gold and oil.
Be Flexible
When it comes to trading, whether it is commodities, stocks or even Forex the only constant is change. Even when we think we have a strong trend, there is no such thing as a "sure thing". Successful Forex traders are flexible and willing to adapt to changes as shown in our Golden Rule #4:
DO BE FLEXIBLE: There is no single surefire method to trading because there are so many types of market conditions. The Forex markets trend, reverse, break-out and consolidate. For each market condition, there are various rules and trading criteria. No single strategy to date that we know of has held up under all trading conditions.
Updated Strategy
Our updated Trading Strategy takes advantage of the short-term trend so that while we NEVER scalp the market, we are in a position to benefit from trades that may go long or short on the US Dollar.