NFP below Market Expectations
Analysts had expected job increase in July to be around 190,000, however, only 157,000 was achieved. Unemployment rate and average hourly earnings meanwhile performed according to market expectations.
Tuesday, July 31: Dollar Back On Its Feet, But Loonie Claims Top Spot
USD
The greenback started the week on the negative side but clawed its way back slowly to the other side. The main catalyst for this movement is the upbeat medium-tier figures supporting odds of another upbeat FOMC announcement
EUR/USD started the day at a high of 1.1747 before dipping to a low 1.1684, USD/JPY went up to trade at 111.96, USD/CHF recovered to end the day at the 0.9900 handle, and GBP/USD dipped from .3162 to a daily low of 1.3089.
CAD
The loonie was the only major currency that challenged the USD on Tuesday, with the currency getting a stronger boost from the country's reports and an increase in crude oil prices.
USD/CAD slipped from 1.3064 to a daily low of 1.2981, CAD/JPY rose from 85.51 to a daily high of 86.13, and EUR/CAD started the day at 1.5308 before slipping to 1.5192.
Wednesday, August 1: Dollar Dips Then Bounces On FOMC
USD
The greenback performed poorly on Wednesday as selling pressure increased leading up to the FOMC announcement, but recovered some lost ground following Trump's tariff plan announcement.
USD/JPY started strongly at 112.00 before dipping to a low of 111.63 and then finally bounced to 111.76, USD/CHF dipped from 0.9922 to end the day at 0.9904, and GBP/USD went up 1.3111 to a daily high of 1.3145 before retracing back to 1.3109.
JPY
The Japanese Yen was the best performing currency on Wednesday after the USD lost footing following the emergence of fresh tensions on the US/China trade war.
EUR/JPY started at 130.84 before dipping to a low of 130.04, GBP/JPY also fell from 147.07 to end the day at 146.32, and AUD/JPY slipped to 82.69.
EURUSD
Our Forex Trading Team sent a signal sell the EURUSD late on August 1st, it got filled in the early morning hours of August 2nd (New York time) and all three targets were achieved and we took profit in our Trade Copier as well.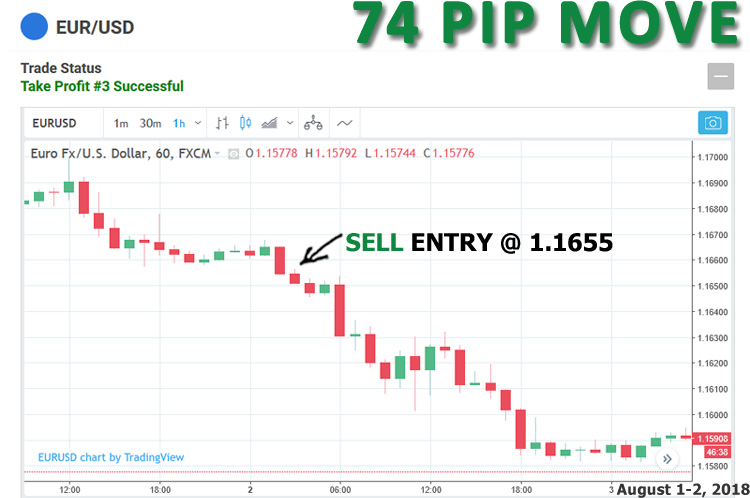 Thursday, August 2: Dollar Advances, Kiwi Further Retreat
USD
Ahead of the NFP release, the greenback embarked on a bullish run that saw it end the day as one of the top performers. Higher U.S. bond yields and a positive showing in the stock market also played part in lifting the currency.
USD/JPY went up 111.73 from 111.31, EUR/USD dipped from 1.1625 to end the day at 1.1583, and GBP/USD continued to drop and ended the day at a low of 1.3015.
NZD
The Kiwi was the worst performing currency yesterday as it lost ground against the other top currencies.
NZD/USD started the day strong at 0.6784 before tumbling to a low of 0.6733, NZD/CHF dropped below the 0.6750 support to trade at 0.6703, and EUR/NZD went up to 1.7205.
Friday, August 3: AUD & NZD Surge Higher
AUD & NZD
The two comdolls performed excellently earlier today as they were boosted by soft demand, most likely due to the risk-on vibes and USD weakness ahead of the NFP report. Demand for Aussie and Kiwi went up when the Greenback plunged hard after the PBoC announcement.
NFP Misses Market Expectations
The U.S. Bureau of Labor Statistics earlier today announced that the NFP employment went up by 157,000 last month, a figure which is below the market expectation of 190,000. The unemployment rate meanwhile dropped to 3.9% while the average hourly earnings stood at 2.7% y/y, both data correlating with what analysts had expected.
The June reading meanwhile was revised upward to 248,000 from the previous 213,000. The greenback further lost ground against most of its competitors overall in light of the weak report.