Greenback Soars – Best Performer of the Week
The Greenback soars into the new week and could look to maintain top position as Powell is expected to speak later this week.
The US Dollar Leads the Market
Last week, the Greenback was the best performing fiat currency in the forex market, outperforming the other major currencies. The USD increased 3.33% against the Aussie. The US Dollar recorded another massive win against the Kiwi, rising by 2.94% last week. The Aussie and the Kiwi were the worst performers of the week.
The US Dollar also recorded gains against the Canadian dollar (2.62%), GBP (1.82%), EUR (0.85%), CHF (0.26%) and JPY (0.19%). The Greenback's rally came despite the United States retail sales dropping by 1.1% in July, worse than expected.
Forex Signal – Buy the Greenback, Sell the Loony
On August 17th, our ForexSignal Trading Team sent a signal to buy the USD/CAD at 1.2588. The trade soared through all three of our targets. The market had enough momentum to move a maximum of 101 pips before running out of steam.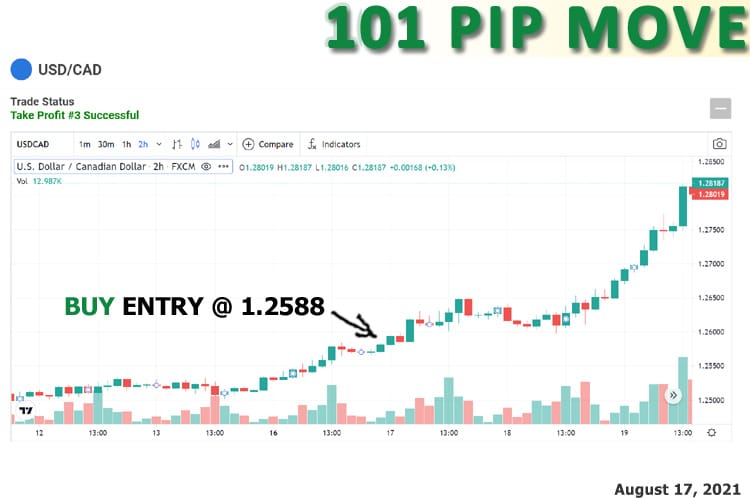 The primary catalyst for the Greenback rally could be the speech by Fed Chair Jerome Powell, who stated that he doesn't think the Delta variant will halt economic recovery. This news gave investors hope that the US market will continue to recover and grow.
The Aussie was the poor performer last week, recording losses against every other major currency. For example, the Aussie dropped by 2.95% against the yen and 2.89% against the Swissy. These poor performances are primarily due to the extension of lockdown measures in Melbourne for two more weeks. As one of the leading regions in the country, the ban impacts future economic activities.
Weekly Forecast: Fed Talks To Dominate
This week will be an exciting one, with some critical events ahead.
US New Home Sales: Tuesday
The New home sales in the United States are expected to improve in this current reading. Previously, the new home sales slipped by 6.6%. Now, however, it is expected to go up by 1% in the upcoming reading.
Durable Goods Orders: Wednesday
The US durable orders are a high priority, but the figures might disappoint. The durable goods orders were up by 0.8% in the previous month, but it is expected to decline by 0.2%.
German Consumer Confidence: Wednesday
This data is essential considering Germany is Europe's largest economy. The previous consumer confidence reading puts it at -0.3%, but it is estimated to drop even lower towards the -1.6% region.
Jackson Hole Economic Symposium: Thursday
The Jackson Hole Economic Symposium will keep the eyes on the United States this week, with investors eager to hear from Jerome Powell.