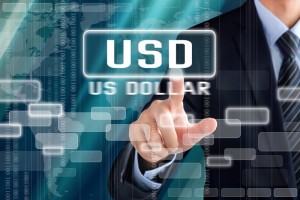 Greenback Declines Ahead of Wednesday's FOMC Minutes
This week the USD dropped against all the majors ahead of the upcoming FOMC announcement. Significantly, the EURUSD closed above 1.2200 and appears to be approaching its 2021 high of 1.2348, last seen on January 6th. If it breaks through this resistance point, we may see continued USD strength; on the other hand, if the Greenback can gain some strength back, we may see a significant reversal as the pair approaches this pivotal point. 
The GBPUSD closed today at 1.4180 and is also trying to return to its 2021 high of 1.4235, last seen on February 24th. Will the GBP break through resistance and continue long, or will we see a trend reversal ahead?
The ForexSignal Trading Team will be monitoring the market closely, and as trades confirm, we will be sending signals to Forex traders all over the world.
Forex Signal – EURUSD Trade of the Week
As the European session opened on Monday morning, our ForexSignal Trading Team sent out a signal to buy the EURUSD at 1.2144. The trade activated not long after, and after a day of up and down, the trade finally took off as the Euro gained momentum and achieved all three of our Take/Profit targets.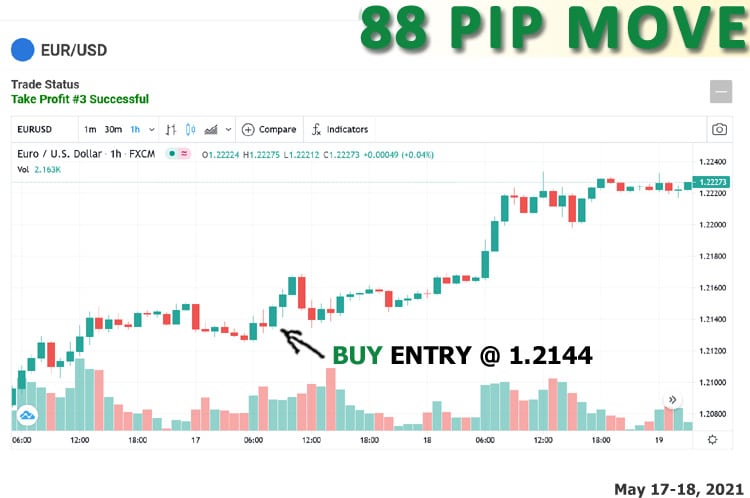 Weekly Market Forecast
Canada CPI Report: Wednesday
The Canadian headline CPI (YoY) could rise to 4.3% for last month, up from 3.2%. Meanwhile, the BoC Core CPI is also expected to rise to 1.3% for April, lower than the 1.4% recorded in March.
FOMC Meeting Minutes: Wednesday
The US Fed doesn't want to make any policy changes at the moment despite the rising inflation. Investors will be monitoring the minutes to see if the Fed will maintain its position. Any suggestion of a tightening in policy could see the greenback soar higher.
Canada ADP Employment Report: Thursday
In March, the ADP report revealed that Canada created 634,000 new jobs, and analysts expect great numbers for April.
Bank of Canada Financial System Review: Thursday
The BoC publishes its overview of the country's financial system twice a year. The publication includes the bank's situation and other economic data.
US Manufacturing PMI: Friday
The US manufacturing space continues to expand, with the March PMI rising to 60.5. Substantial numbers are expected in April, and analysts forecast 60.4 for the month.