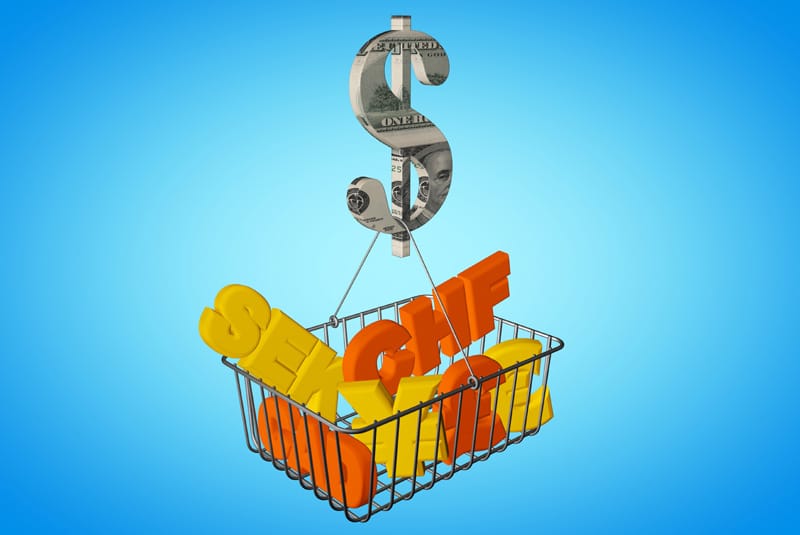 The US Dollar bulls rally as prospects of a possible interest rate hike continue. As the conflict in Ukraine worsens and Russia continues its invasion, risk-off sentiment flows to the haven of the USD.
Although fundamental factors drive risk sentiment, technical data plays a role in price action. Therefore, a well-rounded trader looks at the big picture in analyzing the market sentiment. A powerful resource to gauge the overall strength of the US Dollar bulls is the USD Index (USDX or DXY).
USD Index
As the world prepared for its first Covid-19 lockdown in March 2020, the USDX was at its 3-year high of 98.66.
The USDX took a plunge until finally, it hit its bottom at 89.206 during the week of January 8, 2021. After that, we have seen a steady increase in the USDX. Moreover, the USDX significantly accelerated this past few weeks by the conflict in Ukraine and rumors of a rate hike. Finally, on Friday, we saw the US Dollar bulls push forward as the USDX reached a high of 97.74.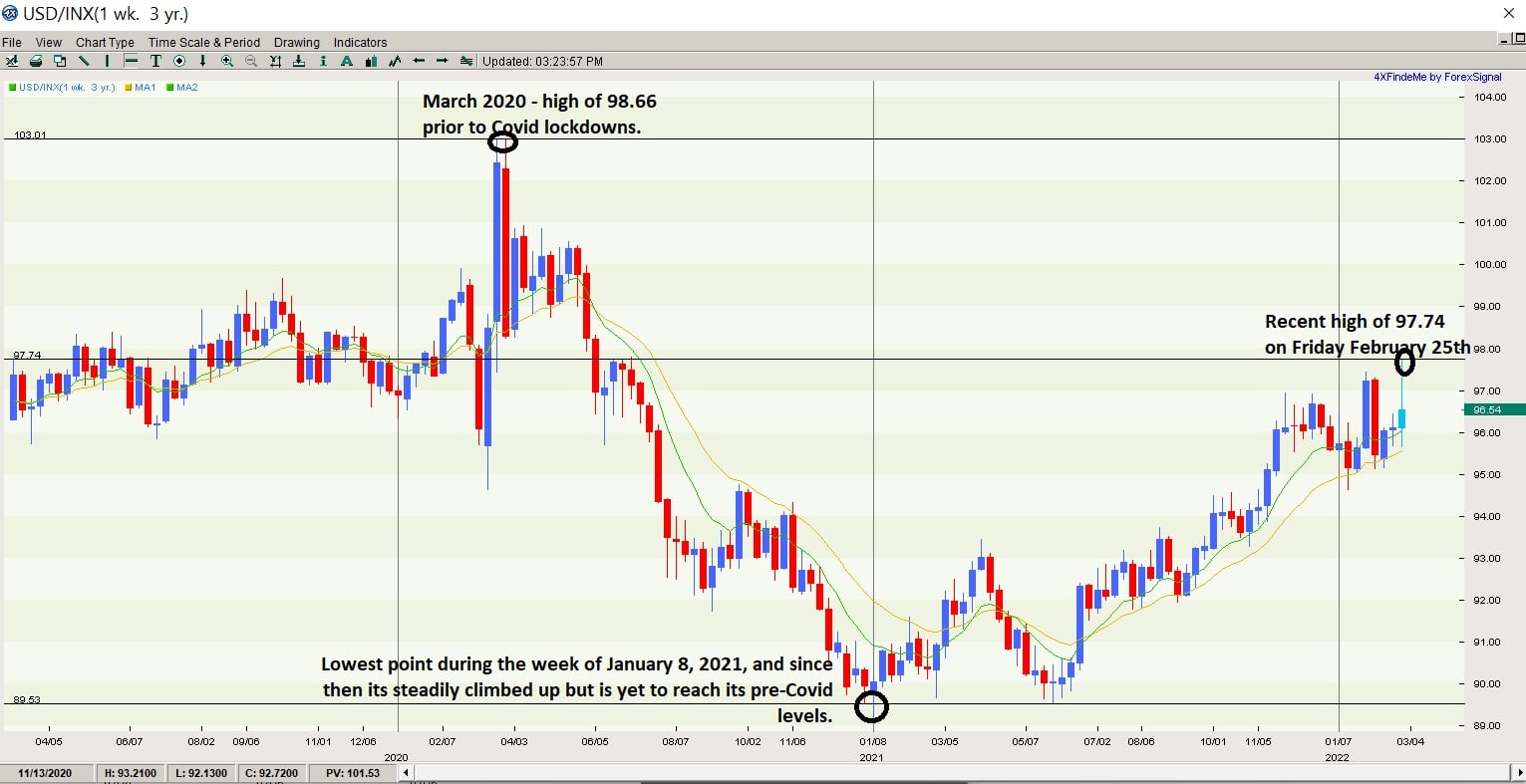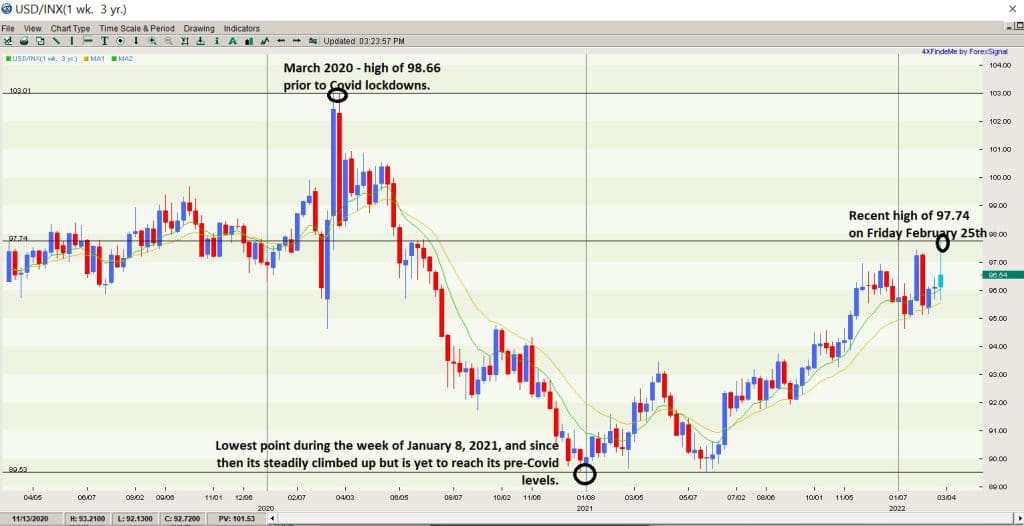 As the world conditions continue to flow investors into safe havens such as the greenback and yen, we will keep an eye on the USDX to see on a technical level if the market sentiment is continuing to favor demand for the USD.
US Dollar Bulls Looking For Forex Signals
The beauty of the Forex market is that there are opportunities to buy or sell either as a continuation of a current trend or taking advantage of the dips in recent price action.
At ForexSignal.com, our Trading Team takes a cautious approach in times of economic uncertainty, and as the world markets digest the situation in Ukraine, we have sent fewer than the usual number of Forex signals. However, this week, we will be monitoring the market's continuation of last week's trend. As a result, we hope to see heightened opportunities to trade and Forex signals sent to our members worldwide.
Events To Watch Week of Feb 27-March 4th
We highly recommend using the Myfxbook Economic Calendar to help you stay ahead of the major Forex market events in the upcoming week. You can even set your browser to alert you before major market-moving announcements. This week on the calendar, here are a few highlights of events to watch:
February 28 at 8:30 am New York time: USA – Goods Trade Balance for January.
February 28 at 9:30 am New York time: Canada – ADP Employment Change.
February 28 at 10:30 pm New York time: Australia – RBA Interest Rate Decision.
March 1 at 2:00 am New York time: Germany – Retail Sales.
March 1, between 3:45 am and 6:00 am New York time, there are four red alert announcements out of Italy – (Markit/CIPS Manufacturing PMI, Inflation Rate YoY, GDP Growth for 2021, and Government Budget review.
March 2 at 5:00 am New York time: Eurozone Inflation Rate YoY, CPI and a speech by ECB Guindos.
March 2 at 10:00 am New York time: Canada – BoC Interest Rate Decision.
View the Myfxbook calendar for more announcements in the coming week with high levels of economic impact. So, US Dollar bulls, brace yourself for the week ahead!