Gauge the Strength of the Greenback with the USD Index.
Smart Forex traders use multiple methods to gauge the strength of the USD. One of the best ways to gauge the overall strength of the USD is with the USD Index, also referred to as USDX or DXY. It is important to follow this index because when market participants are reporting general USD weakness or decline in the trade-weighted USD, they are typically referring to this index. The USDX goes up when the US dollar gains value when compared to other currencies and it goes down when it loses value.
The USD Index was created in March 1973 and was revised in 1999 with the creation of the Euro. At its inception, the value of the US Dollar Index was 100.000. Historically, it has traded as high as 164.7200 in February 1985, and as low as 70.698 on March 16, 2008.
The USDX is updated whenever US Dollar markets are open, which is from Sunday evening New York City time (early Monday morning Asia time) for 24 hours a day and closes on Friday afternoon, New York time.
What Makes Up The USD Index?
The USD index is a futures contract traded on the NY Board of Trade that is calculated using the trade-weighted geometric average of six currencies.
Euro (EUR): 57.6% weight.
Japanese yen (JPY): 13.6% weight.
Pound sterling (GBP): 11.9% weight.
Canadian dollar (CAD): 9.1% weight.
Swedish krona (SEK): 4.2% weight.
Swiss franc (CHF): 3.6% weight.
Real USD Index Example
In keep with seasonal USD strength, the USD for May 2016 has been steadily increasing. Look at the USD Index chart below that shows that out of 17 trading days in May, only 4 of those days have shown USD weakness, and the other 12 show strength. Today's candlestick hasn't closed yet, but it certainly looks like by the end of today we will see another day close with continued USD strength.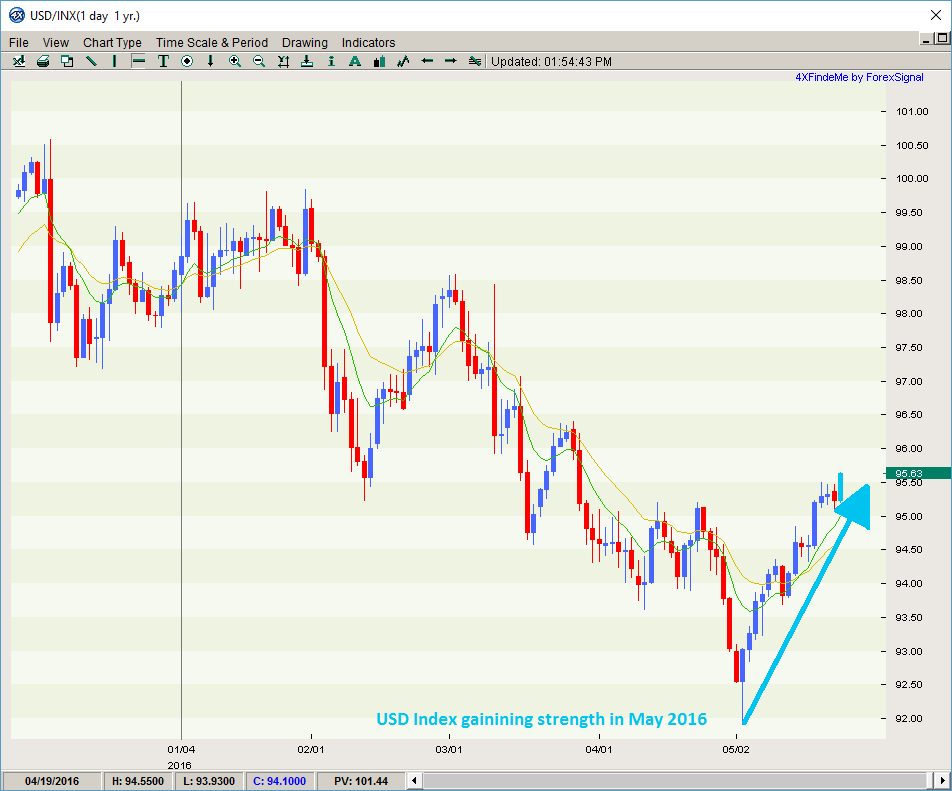 While this chart does not tell us when to buy or sell, it does help us verify the return of the USD bulls. Being aware of the USDX is very helpful if you are a Forex trader looking for an edge to enhance your trading.