Final US GDP to Be Released Ahead of Good Friday
Ahead of Good Friday and Easter, politics is set to majorly influence the movement of currencies while we also have the final US, UK, and Canadian GDP and other figures to be released.
Mixed Price Action Dominate
The greenback didn't witness much change versus most of its major competitors today, after it had previously recorded a one-month low, with pressure from the yen. The USD/JPY earlier today hit a new 16-month low though the pair has recovered to trade higher.
Previously for the EUR/JPY, we sent a signal to sell the EURJPY on March 22nd  at 129.60. We were absolutely delighted to bank profit ahead of the weekend for our Forex signal clients all over the world.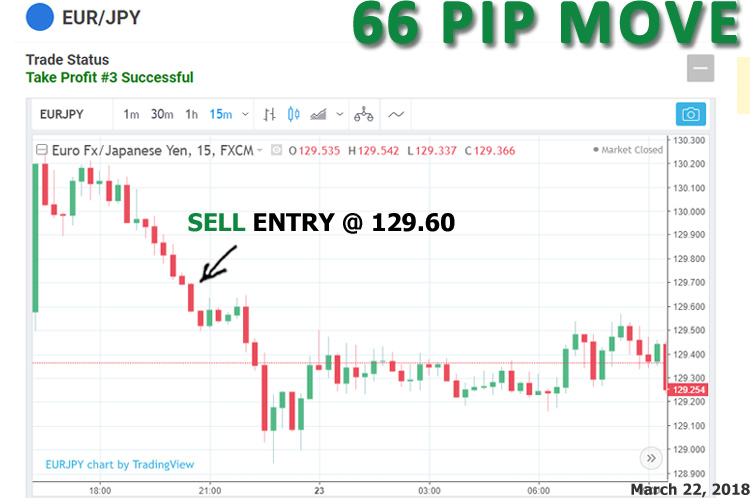 AUD and NZD
As U.S and China are looking to work out trade details, the AUD and NZD have made excellent starts to the week.
AUD/USD has surged by 18 pips or +0.23% and now trades at 0.7721; AUD/JPY has also gone up by 20 pips or +0.24% to trade at 80.97, and AUD/CAD is up by 23 pips or +0.23% and trades at 0.9936.
Meanwhile, NZD/USD is also up by 26 pips or +0.36% to trade at 0.7266; NZD/JPY has increased by 29 pips or +0.38% and currently stands at 76.20; while GBP/NZD plunged by 31 pips or -0.16% and now trades at 1.9487.
Forex Events of the Week: 3 GDP Releases Ahead of Good Friday
US CB Consumer Confidence: Wednesday, 14:00.
In February, the measure of consumer confidence released by the Conference Board went up to a high of 130.8 points and it is expected to increase to 131.2 points this month.
US GDP (final): Wednesday, 12:30.
The US economic growth for the fourth quarter of 2017 will be released for the third and final time. This final reading is expected to reveal a small increase of 0.2% annualized growth, from 2.5% to 2.7%
Pending Home Sales: Wednesday, 14:00.
For the month of January, the pending home sales fell sharply by 4.75. Experts are now expecting a recovery in February.
UK GDP: Thursday, 8:30.
2017 wasn't a great economic year for the UK as its economic growth was much slower than most of its peers. The fourth quarter of 2017 saw a growth rate of 0.4% q/q in the second reading. The third and final reading is expected to confirm that growth rate.
Canadian GDP: Thursday, 12:30.
Publishing their economic growth monthly is something unique to Canada. For December, the economic growth recorded was 0.1% m/m. This will be the first time that we will know how the economy has performed in 2018 as the January GDP growth will be released.
US Core PCE Price Index: Thursday, 12:30.
This data is a favorite for the Fed as it helps track inflation measure and will be the last to be released ahead of Good Friday. In January, the Core PCE increased by 1.5% year over year and similar figures are expected for February. The core prices month over month is expected to increase a bit slowly by 0.2% after the 0.3% recorded in January. Other data to be released at the same time are personal spending, personal income, and weekly jobless claims.