EURUSD and the French Elections
Sundays round 1 of the French elections decisively ended the political risks to the Euro's demise for the time being as far as France was concerned. However, Mondays Euro rally was more a direct result of an unwinding of hedge positions open in anticipation of, or should I say, in fears of a Le Pen/Mélenchon scenario being played out.
EURUSD Price Gap
The initial surge as the results started to unfold resulting in a high of 1.0917; a substantial 200 pip price gap to open the trading week from Fridays close of 1.0715. This was the largest opening price gap for the EURUSD pair on record. A key resistance level is being approached and with most indicators are turning long, so now we wait and see.
Politics aside for the moment; France looks unlikely to provide any shocks at this stage and I for one see the substantial opening gap as confirmation of a renewed strength and of course confidence in the Euro zone, which is a contrast to how it's looked the last 12 months.
EURJPY
Today's Forex signal to buy the EURJPY was inline with the surging Euro. We sent the signal at 4:50 am New York time on Tuesday April 25th to buy at 120.35 and within a short time, the trade was filled and reached Target 3 success.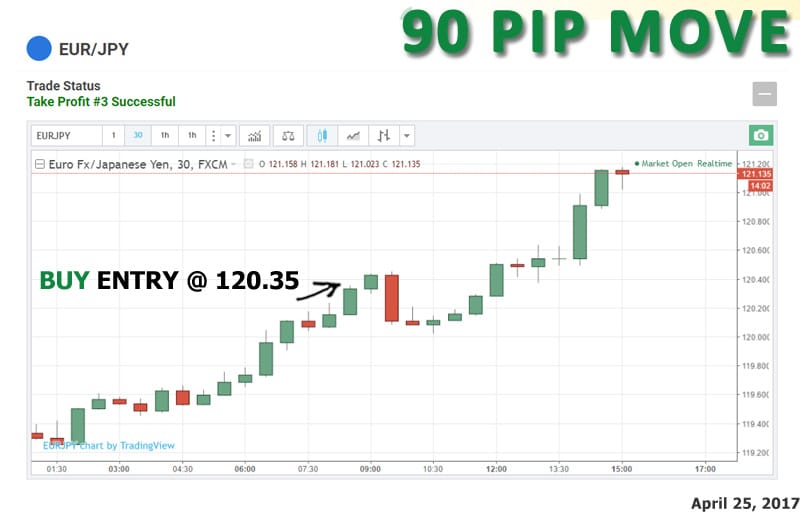 Stock Markets
The strong advance in the world stock markets seems to be confirming these findings and the rest of the week and the much-anticipated statement from the ECB will be vital.
Simply put, with all the indicators on the Euro pointing upward, if something changes and there is no continuation of the current move and we see a sudden reversal, then we will all be caught in the con of this latest Euro surge and we are in for a huge downward spiral. That is possible but at this vantage point after what's happened this past weekend with the Euro, and with Mondays worldwide bull surge in the stock market, it seems hard pressed that we will see unwinding of the recent market moves.
ECB Meeting
Our attention now turns to Mario Draghi. Thursday's ECB meeting is not expected to bring about any changes in regard to the view of the ECB; as usual if Draghi acknowledges the up-tick in data, we could see Bullish support for EURUSD.
While Economic Data from Europe has consistently beaten expectations for the past 6-months, June's ECB meeting will provide new economic forecasts and a clear commentary on the ECB stance going forward.
Bottom Line
If the Euro closes on Friday with an increase across the board along with an even stronger stock market, then the Euro and market bulls can look forward to some sustained momentum ahead.