USD/JPY Volatility
This weeks Federal Open Market Committee (FOMC) announcement and the anticipated rate hike (sentiment index at over 80%) should result in some serious volatility in all markets. We expect the USD/JPY and the JPY crosses to be on the receiving end of some back and forth spiking as the market accesses what to make of an increase that is already strongly anticipated.
It always seems to amaze me, when the sentiment index is above 90% on an upcoming rate hike announcement, yet the market still runs and spike back and forth unsure of itself like it's an unexpected outcome. Go figure!
Jobs Report
Last Fridays positive USD jobs report failed to significantly move the USD/JPY.
It was highly anticipated that last week's positive US job report was going to send the pair through the roof – but as per our earlier article, the market tends to "buy the rumor and sell the news," it seems this was exactly the case with almost an 80 decline off it's high of the month.
Prior to the Jobs report, we enjoyed upward movement on the USD/JPY and our Forex signal to buy the USD/JPY was successful as the trade moved 75 pips in the long direction, putting the USD/JPY at over 115.00 for the first time since January.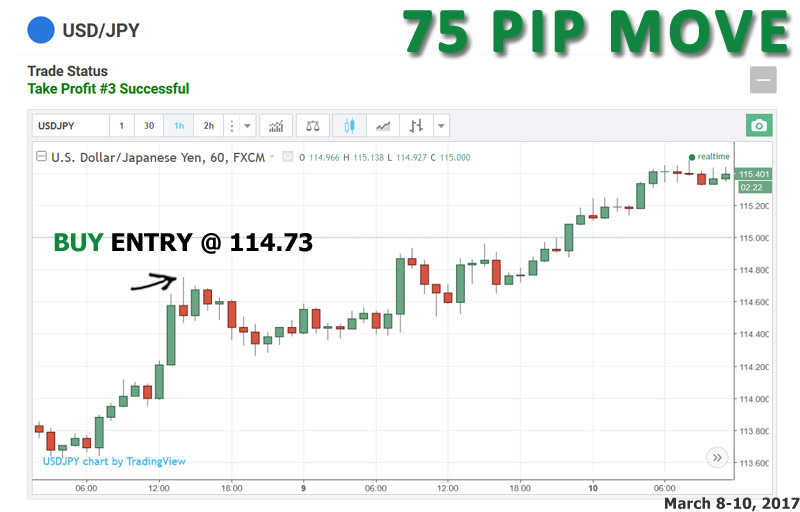 Yet, as of today Monday, there has still been downward pressure and the USD/JPY is yet to sustain the move above the big figure 115.00.
BOJ
Meanwhile the BOJ (Bank of Japan) is not letting up on their policy of Quantitative/Qualitative Easing (QQE) and the central bank may continue to embark on a wait-and-see approach for monetary policy as officials monitor the impact of the non-standard measures on the real economy.
Japans Governor Kuroda and his team may decide to keep the window open to further easing as they struggle to achieve the 2% target for price growth. This divergence may foster a bullish outlook for USD/JPY in the long term especially as the BoJ strives to keep the 10-year yield close to zero.
Eventful Week
We expect an eventful week after Wednesdays pending FOMC announcement and as always, our ForexSignal trading team will be watching and waiting to provide you with Forex trading signals wherever you are in the world.
As always, we wish you a happy and profitable week.