MT4/MetaTrader 4 – Used By Most Brokers.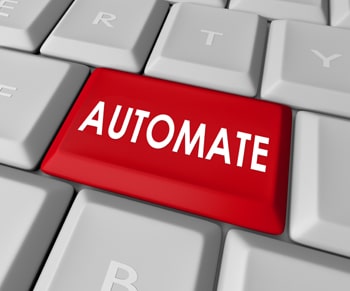 The MetaTrader 4 (MT4) platform is the most widely used and well known trading platform for the private Forex trading investor. Millions of traders all over the world, with just about any Forex broker, choose to trade with MT4. The platform offer advanced technical analysis options, indicators and computer and mobile trading applications compatible with IOS, Android , Linux, Windows and MAC OS.Still, I have no doubt that the most popular reason why traders choose MT4 is to take advantage of Automated Trading technology.
MT4 Expert Advisor
Prior to MetaTrader 4 technology, most Forex traders could only participate in automated trading by means of "managed accounts." To participate, the trader usually had to sign a LPOA (Limited Power of Attorney) agreement to allow a trading agent or broker to trade on his or her behalf. The trader was thereby revoking his right to trade in his own trading account and would have to leave all trading decisions, including lot sizes and when to exit a trade, entirely and completely in the hands of the Forex broker or agent. Of course he could cancel his LPOA agreement at any time, but then if he ever were to decide to restart the managed account, he would have to repeat the whole process over again.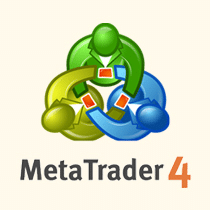 But with MetaTrader 4 Expert Adviser technology (EA's), Forex traders can switch automated trading on and off with the click of a button. Using plugins called an "Expert Advisor", traders could now received automated trades to their account without having to give up their trading privileges or sign any legal documents. All they needed to do is find an "Expert Advisor" that they wanted to follow, download it, and install it on their MT4 account. Traders could still intervene in a trade at any time, and continue to place their own Forex trades in their platform simultaneously next to the EA. Finally, the solution to automated trading!
The Problem with EA's
But, of course, with any solution came problems. Most EA's were fully automated systems that were programmed to run like a robot, oblivious to major market events and announcements and other fundamental factors. For example, most human traders know that during Non-Farm Payroll Friday each month, the market experiences untamed volatility and that you should trade with caution. But EA's do not know this, and false triggers could be hit due to the unexpected volatility which could results in large losses from unnecessary risk. Or, as the market situation changed, the EA's programming did not always keep up, and so a robot-type EA system that worked previously could quickly become out of date. Or, perhaps the programmer accidentally coded the EA incorrectly. The results could be disastrous.
Forex Trading Robots
Most robots are designed to analyze data coming directly into your MT4 platform, and if you have a time setting on your chart incorrect, it could completely change the trading strategy and result in false trades. Or, you could run the robot on the wrong currency pair, and this could lead to additional false trades or errors.
Since most traders started equating all EA's with robot trading, the term EA started to receive a negative connotation in the Forex market and many Forex traders saw the term EA as a red flag of a Forex trading disaster. Maybe that is the reason why in recent years, the MetaTrader 4 developers changed the wording of the Expert Advisors button to simply say "Automated Trading."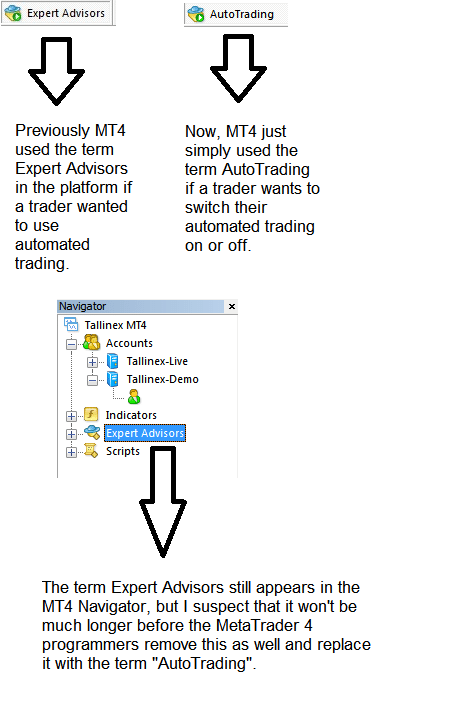 MetaTrader 4: Automated Trading with a Trade Copier
That said, don't let the term EA scare you! There are many Forex trading robots developed by superb MT4 programmers with solid performance history and are constantly tweaked and maintained by their programmers. Still, in my opinion, I prefer EA's that run as a Trade Copier much more than an EA that is run like a robot.
The beauty of MetaTrader 4 Expert Advisor technology is the ability to run automated trading in the form of a Trade Copier. An Expert Advisor, setup as a Trade Copier, is far superior to a Expert Advisor set up to run like a robot, which as we already discussed, wouldn't know any fundamental events or market condition change without a programmer going in to tweak or change the coding.
On the other hand, a Trade Copier, such as the one offered at ForexSignal.com, can benefit from the human touch. The software doesn't just generate automated trades based on perhaps falsely triggered market behavior, but rather can benefit from a trading team who can analyze the Forex market and adapt in real-time to changing market conditions.
How does this work? Well again lets take the ForexSignal.com Trade Copier service as an example. Our Trading Team analyzes the Forex market for trading opportunities. When they see an excellent trade setup that confirms using their technical and fundamental analysis, they can send the trade through MetaTrader 4's EA functionality using a software called the "AForex Master" software. The trade is then sent to all MetaTrader 4 accounts running the "AForex Slave" software. As long as the Aforex software is online and running at the time the trade is placed in the Master account, all traders will receive the exact same trade directly in their MT4 platform.
The beauty of the AForex Trade Copier is that it is receiving the trade from a system that is run and monitored by a trading team. So you won't receive false trades triggered by a robot being run on the wrong currency pair or wrong time frame. Unlike EA's set up like a robot, you don't have to download the EA on to each chart in your MT4 platform. You just run it once, on any chart and any time frame, and you'll automatically receive the trade exactly as it should appear, into your MT4 platform.
MetaTrader For All
Are you like many traders in the Forex world, already trading on the MT4 platform and looking for ways to increase your positive trading opportunities? Why not try out forex signals with Trade Copier from www.forexsignal.com and see for yourself?