Greenback Recovery
The greenback has recovered across the board as the second half of the year started on a busy note.  In addition to the reaction to NFP; the inflation rate, consumer data and Janet Yellen's testimony are some key events to occur this week.
July 10-14 Highlights
The US JOLTS Job Openings: This is scheduled for Tuesday noon. The publication is for May, and although lagging, is still of importance. The April report toppled the 6 million mark. The May report is expected to drop to 5.898 million.
FOMC's Brainard talks: Also scheduled for Tuesday, Fed member Lael Brainard will give her endorsement this week. The question is now whether she will be skeptical about inflation now or stay optimistic like her colleagues?
UK jobs report: The report will be released on Wednesday. With a high level of employment recorded in April and May, a drop to 1.8% is being predicted for June. In May, jobless claims (Claimant Count Change) rose to around 7.3k. It is expected to rise to 10.4k in the upcoming report.
Janet Yellen testimony: Yellen is scheduled to speak on Wednesday and Thursday. On her last address to lawmakers, she didn't touch the economy. This is expected to change as lawmakers and investors are curious to understand the Fed's next moves. The most common assumption is that the Fed will begin reducing its balance sheet in September and raise rates once again in December.
Canadian rate decision: Scheduled for Wednesday noon, expectations are high after the recent hawkish tilt from the BoC. The rates are unlikely to be raised during this July meeting but it might occur in October.
US CPI: Scheduled for Friday, the annual CPI report in May fell to 1.7% which was more than expected. Core inflation has been on a 0.1% rise each month. Headline CPI is expected to rise by a modest 0.1% m/m and core CPI by 0.2%.
US consumer confidence: Also set for Friday, the measure of consumer confidence was at 95.1 points in June as reported by The University of Michigan / Reuters. The preliminary figure for July is expected to stand at 95.2 points.
Forex Signals
After a somewhat slow start to July in few of last week's public holiday, we started out the week with two Forex signals early in Monday's session. We closed out our USDCHF signal with a small profit and our EURJPY long trade reached our third target. We look forward to a busy and active week of Forex signals ahead.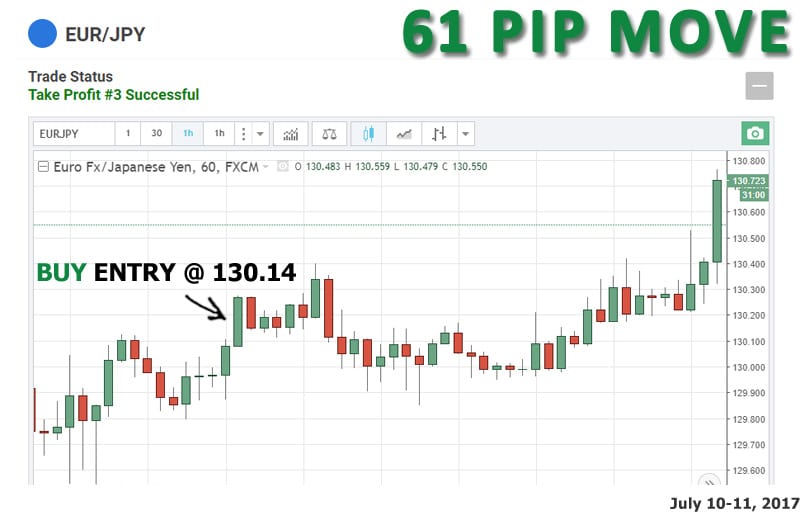 Trend Meters
The ForexSignal Trend Meters are updated daily and reflect the daily trend for each of the major currency pairs. ForexSignal subscribers can access the Trend Meters in their web dashboard at any time.