US Dollar Strengthens
The Greenback was pushed ahead today against its major counterparts after William Dudley, New York Fed Reserve President, hinted toward a rate hike in the USA before 2018.
Euro
The euro especially dropped against the USD after Germany's federal election this past Sunday. Chancellor Merkel has renewed her 4th term in office but with the challenge of building a coalition to form a government. As the euro zones powerhouse, any instability out of Germany will likely lower the euro. Nonetheless, the euro-zones biggest economy continues to be strong based on recent data released out of Germany.
USD Index
The US Dollar index has been steadily declining since January 3, 2017 when it peaked at 103.82. On September 8th, it touched its lowest level of 91.01 and today it is attempting a surge and has gained almost 60 pips, hitting a high of 92.72. While the USD Index shows a recovery today, it is still far from its 2017 peak and has a lot of room for growth ahead.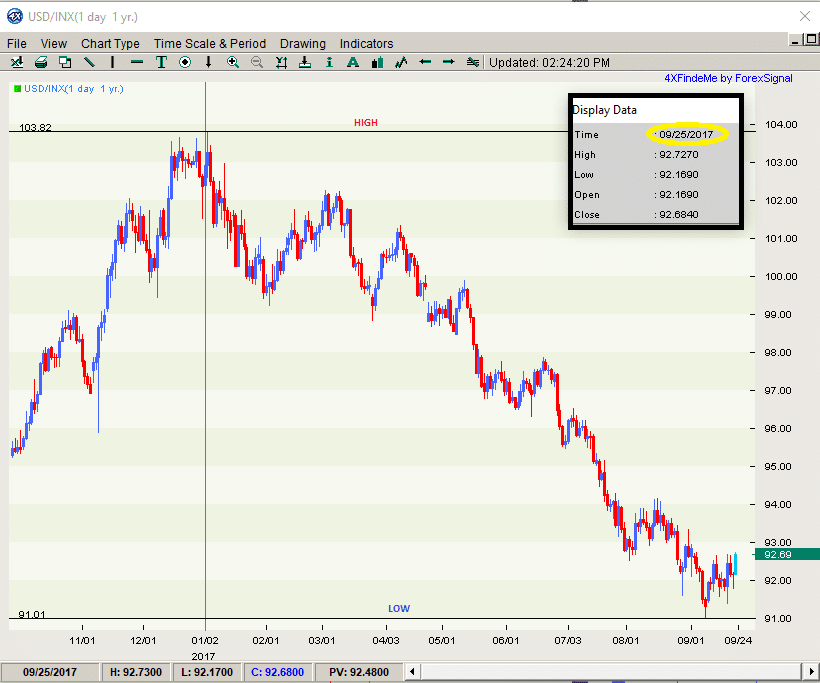 Forex Signals
At the start of the new week, we have just sent one Forex signal to sell the AUDUSD. The trade hasn't done yet worth talking about, although it did get within 2 pips of our first target.
We also see possible setups on the GBPUSD, EURUSD, and EURJPY. Most likely we will see additional trades sent during the Asian session or in the start of the European session Tuesday.